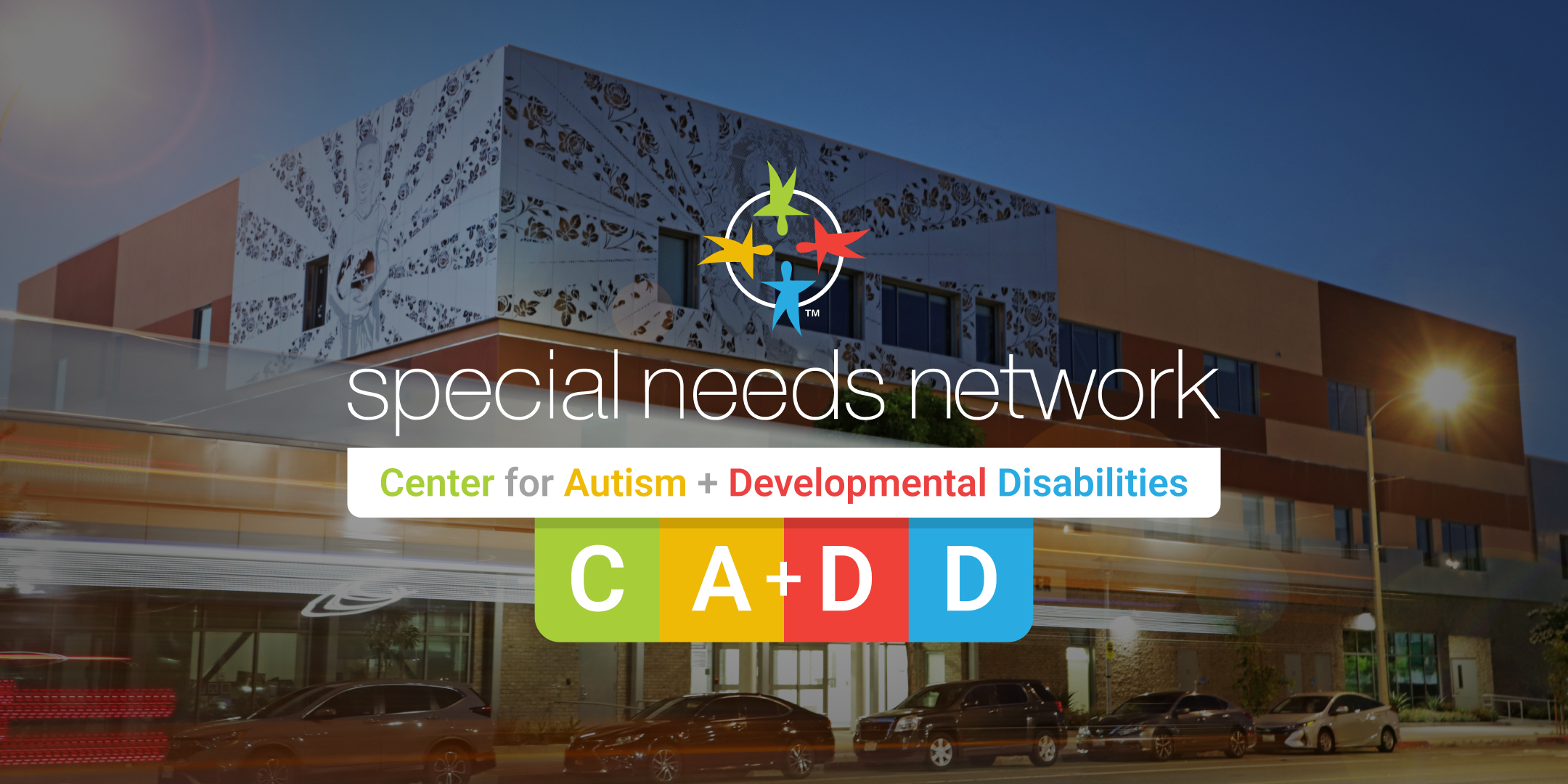 Center for Autism + Developmental Disabilities (C.A.D.D.) 
Transforming the developmental disabilities community 
Special Needs Network operates the Center for Autism and Developmental Disabilities (CADD) a full-service autism health and community center delivering comprehensive medical and developmental services in the historic Watts/Willowbrook/Compton neighborhood. 
Located on the campus of the new Martin Luther King, Jr. Community Hospital, the CADD provides young people and their families with compassionate, integrated diagnoses and intervention services, speech, occupational, physical, and Applied Behavior Analysis (ABA) therapies to primarily Medi-Cal recipients, uninsured, and low-to-moderate-income families. Through our partner, St. John's Well Child and Family Center, families receive medical and dental care. Additional services include early intervention therapy programs for toddlers, a free legal clinic, a family resource center, vocational and skills training, and afterschool diversion programs.
Behavior Therapy
Building skills and advancing positive behaviors
Applied Behavior Analysis (ABA) therapy aims to teach and reinforce new skills and positive behaviors while reducing behaviors that interfere with progress. Studies have found ABA to be an effective intervention, especially when introduced consistently and at a young age. 
SNN provides ABA through Discrete Trial Training (DTT), play therapy, natural environment training, and social skills. Every child works with a therapist several times a week toward individualized goals ― stepping stones toward the level of performance of a more typically developing child. The ultimate goal is to provide every child access to opportunities and environments available to their typical counterparts.  
Supporting and educating parents
A Parent Education component is central to all of our programs. SNN prioritizes delivering parents the support and resources they need to help the whole family thrive. Support and intervention for children in the home are essential to providing intervention. 
We work with parents on individualized programs designed to reinforce, in different environments, the therapy that children receive from SNN. This includes a written, step-by-step plan outlining how caregivers can best respond to various situations to help build language, social, and motor skills.
We also teach parents and caregivers the skills they need to advocate for children in educational, therapeutic, and social settings.  
In addition, SNN professionals provide:
+ Referrals and links to additional special needs services
+ Comprehensive primary and preventative medical care
+ Behavioral health services and assessments
Get in touch to access services by calling 323.291.7100 or emailing snnaba@snnla.org

Dear Friends and Supporters of Special Needs Network,
I hope this letter finds you well. As we approach the holiday season, we are excited to announce the return of the Special Needs Network's Holiday Cares Toy Drive, and we are reaching out to you with a heartfelt request for your support. As we gear up for our annual Christmas Cares Holiday Toy Drive, we invite you to be a part of this wonderful initiative by contributing to our cause.
The holiday season holds a special place in the hearts of the underserved communities that Special Needs Network supports year-round. Many of the families we serve face economic challenges, are overwhelmed by their circumstances and are silently struggling. This year, there is a heightened sense of urgency to reach out to our community partners for support. In the wake of the pandemic and the subsequent inflationary period, we aim to provide help, hope, and joy to these families, ensuring their holiday season is filled with warmth and happiness.
We are seeking sponsors, donors of toys, food, and home essentials, supporters, vendors, and volunteers to make this event a resounding success. Your contribution, whether in-kind donations or financial support, can make a significant difference in the lives of those we serve. You can also donate toys here.
Any and all toy donations are welcomed. To learn more about the Special Needs Network and the impact of our work, please watch our video.
Your generosity can bring joy to countless families during this festive season. Your support is pivotal in helping us uplift parents and caregivers, providing them with the help and hope they desperately need.
As we approach Giving Tuesday, we have been thrilled by the momentous milestone that fills our hearts with pride and hope. As you may know, we've officially unveiled the Center for Autism and Developmental Disabilities (C.A.D.D.), a groundbreaking facility that promises to transform lives, nurture hope, elevate standards, and advance the field of autism and developmental care. And this facility has now been serving individuals who need and deserve these services for months.
Located within the Martin Luther King, Jr. Medical Campus, the C.A.D.D. is not just another clinical space; it is a place designed to feel like home. We understand that the families we serve yearn for environments that inspire connection and nurture growth, where their children can flourish. The scientific research reinforces the positive impact of spaces that model warmth and welcome, and our C.A.D.D. embodies this vision.
This monumental project draws upon my experiences as a mother to a child with special needs, the insights gained as a leader in antiracism work, and the latest innovations in developmental care. Collaborating with Plana Architects, we've created living, breathing spaces that invite you in and ground you, making you feel part of the world. Natural light, green spaces, and a focus on learning and collaboration are at the core of our design philosophy.
What sets the C.A.D.D. apart is its comprehensive, data-driven approach to developmental care, with a special emphasis on Natural Environment Teaching (NET). NET is a method that empowers children with autism in various ways, helping them grasp concepts, practice skills in real-world settings, and focus on topics of interest. Our center provides spaces like a light-filled kitchen, a model bedroom, and an engaging game room and music center where children and teens can develop life skills, connect socially, and challenge themselves.
The impact of physical spaces on improving social communication, cognition, and motivation is backed by research, and we are committed to embracing this new understanding. We believe the C.A.D.D. will have an enormous impact on children and families and further our understanding of what works best.
This endeavor is not just about creating a state-of-the-art facility; it's about addressing a profound need in the Watts/Willowbrook community. Residents in this region have faced long-standing disparities and under-resourcing, and our center aims to change this narrative. Through anti-racist service delivery, community outreach, and targeted support for families at the highest risk of roadblocks, the C.A.D.D. offers a comprehensive and integrated range of services that are unique to the region. Our mission is to ensure that every child receives the support they deserve, regardless of their background.
We invite you to join us on this incredible journey and be a part of our Giving Tuesday campaign. Your contribution will not only support our ongoing work but also help us continue to provide vital services at the C.A.D.D. The impact of your generosity is immeasurable and will touch countless lives.
We kindly request you to consider contributing to our cause. Special Needs Network Inc. is a 501(c)3 nonprofit organization, and all donations (in-kind, financial, or services) are 100% tax-deductible under our tax ID number 05-0617904. If you have any questions or require further information, please do not hesitate to contact us.
On behalf of the Special Needs Network and the families we serve, we would like to express our deepest gratitude for your consideration and potential support. Together, we can make this holiday season truly special for those in need.
Sincerely,
Areva Martin
Founder and CEO, Special Needs Network